Cultivate more sustainable, resilient and healthy landscapes in our communities
Is your organization passionate about weaving nature back into our communities? As a SITES Community Partner, you can show your support for healthy ecosystems and join a network of organizations committed to prioritizing meaningful, high-performance outdoor spaces.
Become a SITES Community Partner
SITES brings nature and the multitude of essential benefits it provides to the forefront of decision making—from fostering resilience, to cleaning water and air, to improving human health and wellbeing. More than a certification system, SITES is the product of years of thoughtful and rigorous research, a community of change-makers and a mechanism to elevate the value of sustainable and resilient landscapes in our society.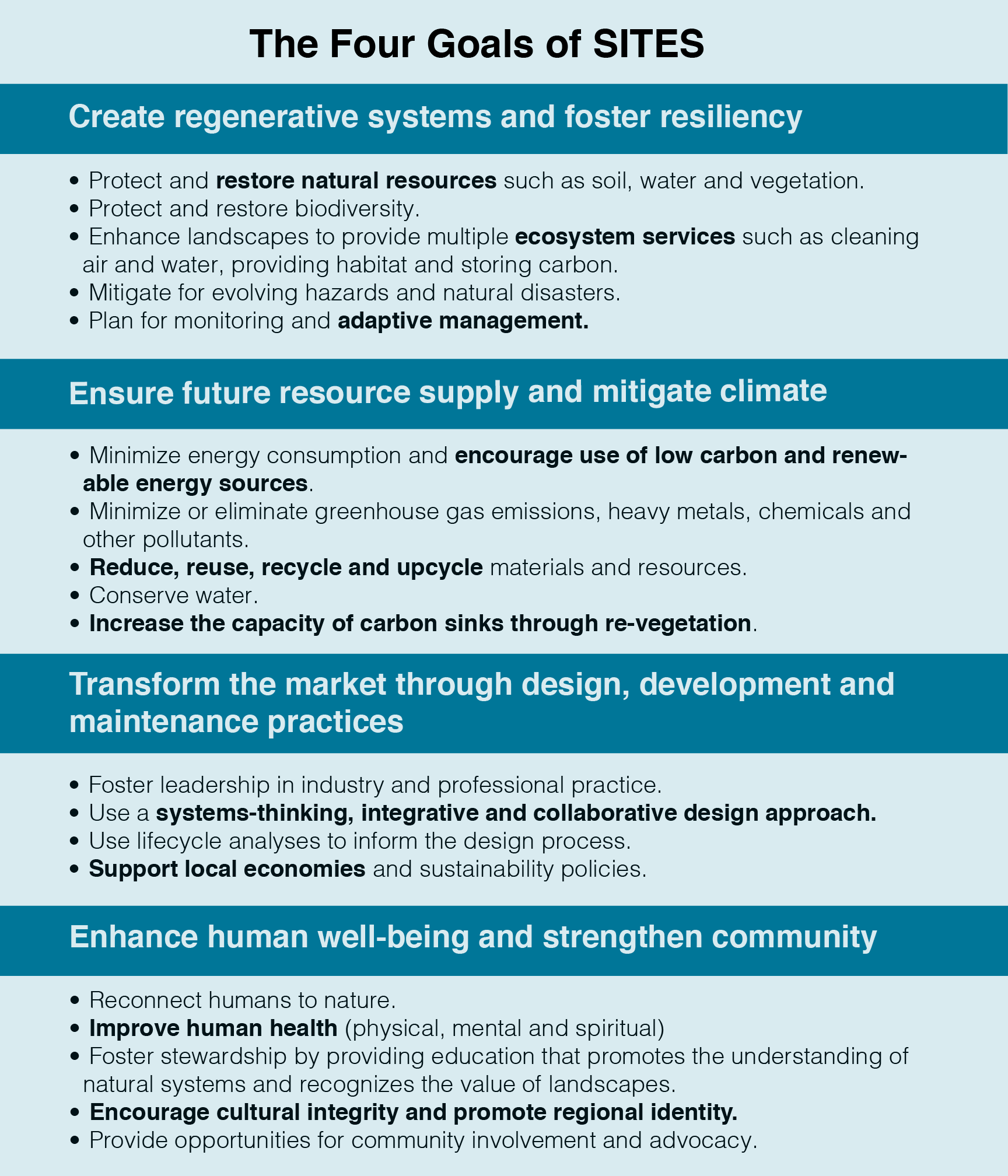 ---
Determined, collaborative individuals and organizations who propel these principles forward in their own communities bring this vision to life. It is through your on-the-ground leadership that SITES' principles of innovative research, forward-thinking design, resilience, equity and health can be actualized.
---
Your organization can contribute to this vision by becoming a SITES Community Partner. Partners commit to:
Endorse the SITES Guiding Principles and SITES Four Goals listed above
Educate, advocate and elevate the importance of ecosystem services
Promote the adoption of SITES as a comprehensive, voluntary set of guidelines and a rating system for the design, construction and maintenance of sustainable landscapes.
Foster leadership by writing and speaking on SITES in GBCI, USGBC, professional and public forums.
By becoming a SITES Community Partner, your organization gains access to the following:
Public recognition of your organization's commitment on the SITES website, publications and promotions
Opportunity to share relevant research, feedback and input with GBCI to evolve the SITES Rating System and inform future direction of the SITES program.
Early access to the latest SITES news, updates and opportunities
Invitation to share updates and events in the SITES monthly newsletter
For academic institutions, access to a free PDF of the SITES Reference Guide for their library systems
---
We invite you to join SITES as it lays the foundation for an active community of users, practitioners and visionaries. It is through our combined efforts that change is made.
SITES Partners
SITES is proud to partner with these pioneering organizations across the world.